We're HERSANA
We're HERSANA. Since 2016, we've been designing safe spaces for Black women and girls affected by or at risk of experiencing gender-based violence across England and Wales. To overcome the physical, emotional, financial and logistical impacts of abuse and rebuild their lives.
Whatever form gender-based violence comes in, from rape and female genital mutilation to relationships based on psychological or financial control, we work to eradicate it. But we know escaping violence and abuse can be the hardest thing to ever do. That's why it's so important we're creating safe spaces designed by Black femmes, built for Black femmes and with Black femmes in mind and at the forefront.
We find creative, audacious and innovative ways to support thousands of Black women and girls each year.
Our vision
HERSANA's vision is that one day we will live in a society where:
Black femmes can feel confident in reporting their experiences, accessing holistic support services and being believed, empowered and supported on their journey to recovery.


Black femmes can access culturally specific safe spaces designed by them, for them and with them in mind.


All women and girls have the right and are able to live safe and independent lives which are free from all forms gender-based violence, abuse and exploitation.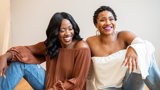 Our mission
HERSANA exists to create holistic, gender-specialist, culturally specific and trauma-informed safe spaces for Black women and girls affected by or at risk of gender-based violence across England and Wales, as well as campaign to eradicate violence against women and girls in all its forms.
We aim to centre Black femmes in every narrative and to provide these services in a safe and Black femme only environment. 
HERSANA has an inclusive definition of women including trans women. We refer to Black women, Black girls, Black trans women and Black non-binary people who identify with and feel safe in feminine spaces as Black femmes, to create and provide an inclusive and safe space for our service users.
Our values
HERSANA's core values reflect our history and mission and were developed in consultation with staff and service users. We have been working to this set of key values.
Audacious
We are audacious in speaking out and taking action for and with Black femme survivors. We provide platforms for their views and voices to be heard by promoting their rights and contributing to the improvement of research policy initiatives. We will always speak about the issues and challenges Black femmes face, no matter how uncomfortable some may find them.
Blackity Black
We center blackness and the experiences of Black femmes in every narrative.
Confidential
We believe in providing a confidential service and working alongside survivors with their best interests at heart by providing a safe space for survivors.
Empowering
We create space for all voices to be heard. We lift each other up and believe that we're all leaders. We understand the importance of communication and feel confident to challenge and to ask questions. We're transparent and take ownership of our decisions, even the difficult ones.
Intersectional
We operate based on feminist and intersectional principles. Our feminist leadership empowers us to be creative and innovative, celebrating our successes and learning from our mistakes.
Survivor-led
We believe survivors' voices must be heard to help create a safer, more equal world. We work with Black femmes to shape the support that they receive to ensure that our services are centered around them and informed by people with lived experiences.
At HERSANA, we view people accessing our services as survivors, rather than victims. This does not ignore an individual's experience of victimhood, but rather defines the basis upon which we begin all interactions with service users.
Let's stay in touch. Sign up for our newsletter…
Send us your email address to receive all of our latest news & updates.